SALADE PROVENÇALE GARLABAN*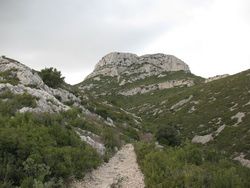 Let me share here with you a family receipe my mother used to prepare very often when we were young. It is very typical of Provence and can be eaten cold or warm, according to taste and time of the day. It is perfect to take along when hiking or camping. You can add canned tuna fish and black olives (sun dried) to it if you want it more nourishing.


Preparation time: Fast
Ingredients for 4-6 persons:

● 750 g (27 oz) green beans (Kidneys)
● 750 g (27 oz) potatoes (Spleen)
● 3 hard boiled eggs (Lungs, Spleen, Kidneys)
● Black olives, as many as you wish (Kidneys)
● Tuna fish, 1 can (Lungs, Spleen)
● 1 TBS balsamic vinegar (Liver, Spleen)
● 3 TBS olive oil (Kidneys)
● 1 crushed garlic bud or more (Spleen, Lungs)
● 1 TBS strong Dijon mustard (Lungs, Spleen)
● Salt and pepper (Kidneys, Lungs)


Put the unpeeled potatoes in a pot filled with cold water. Let boil until the potatoes are tender, then peal and dice them.

Steam the green beans in a steamer and cut them in three once you have drained them (do not overcook).

Put the eggs in cold water and let them boil for 10 minutes at least. Then let cold water fill the pot over the eggs. Shell them and slice them.

In a salad bowl, mix beans, potatoes and eggs (as well as tuna fish and black olives if you wish so). Season with a garlic dressing (more appropriate according to me) or a mustard dressing (for those who cannot digest garlic well).

For your dressing, put the mustard in a small container and add the vinegar. Mix with a fork or with an electric hand mixer. Then add olive oil little by little until you have the quantity you want. The dressing should be almost like a mayonnaise. Add salt and pepper to taste. If you want garlic in it, put crushed garlic in the container at the beginning and proceed the same way.
You can prepare a large quantity of it since it holds very well in the fridge.

PS : If you use lemon juice instead of vinegar, you will tonify more your Liver (Wood), which is good because we are entering the Wood season/element.

Enjoy!
* Garlaban, is the name of this 700 m (2000 feet) high beautiful hill located close to Marseilles and under which Marcel Pagnol (Manon of the Springs) and I were born, he at the time of the last « chevriers » (goat shepperds) and I, in 1951