My liver Flush, by Louise R.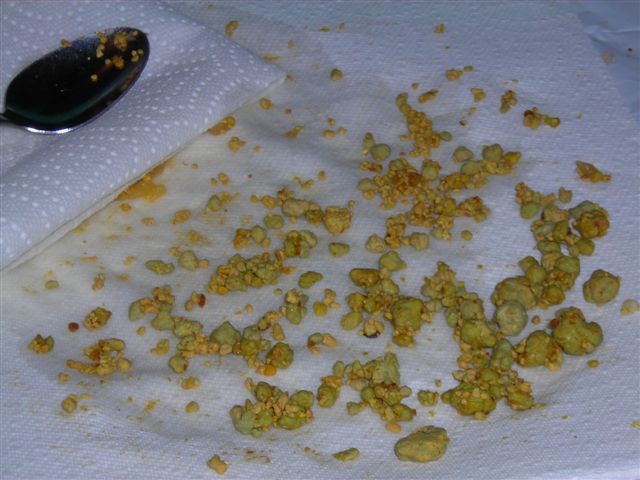 For the last few months I felt tired and had difficulties digesting. Following an echography, I was told that my gallbladder was full of stones and that it had to be surgically removed. It is with this worry in the back of my head that I arrived at the Weight Loss Chi Kung workshop offered by Annie Ollivier.

After having introduced myself and talked about the problem I was facing, I had the wonderful surprise to hear that I could flush these stones out without surgery. I was at the same time apprehensive and curious. In fact, I feared that some stones might get stucked in the bile duct and trigger such a crisis that I would wound up at the emergency cramped with pain.

But Annie had done this flushing two weeks earlier and, as I could see, she was in great shape and not suffering. Moreover, what I had read on internet sites about this flushing was reassuring and confirming me that it was the thing to do. So I went over my fear and started the flush a few days later. As a measure of caution, I asked a retired nurse friend of mine to spend the night at my place. She had offered it kindly to me, and I couldn't turn her offer down because it was reassuring for me.

I followed the protocol as indicated. As soon as I lied down in my bed around 10 pm, I felt the stones pass in my bile duct, without pain! But I still was sceptic and telling myself : «It worked for others, but I am not sure it will work for me.» But, BINGO, the following morning, after a painless night, I eliminated an impressing quantity of green and towny bids and filaments. As it was said in the protocol Annie had given me. As far as my friend was concerned, she had a good night sleep and didn't have to be disturbed in her dreams!

I flushed thousands of stones. The ones I show on the pictures here I put in a glass jar in water to bring to my physician to proove him that the stones had really been eliminated and that the surgery was no more necessary.
I am still totally stunned and excited by this miracle! Proud of myself for going over my fears!

I wish others could avoid surgery stress and find their energy and an unexpected well-being in such a soft manner.
Old ways coming down from our forefathers are great!

Big thanks to Annie Ollivier who heard my need, my fears and who supported me in this,
My daily life is more energetic and easier. At last, I can undertake projects without fearing that I have to drop them.
Louise R. (Gatineau, Québec)